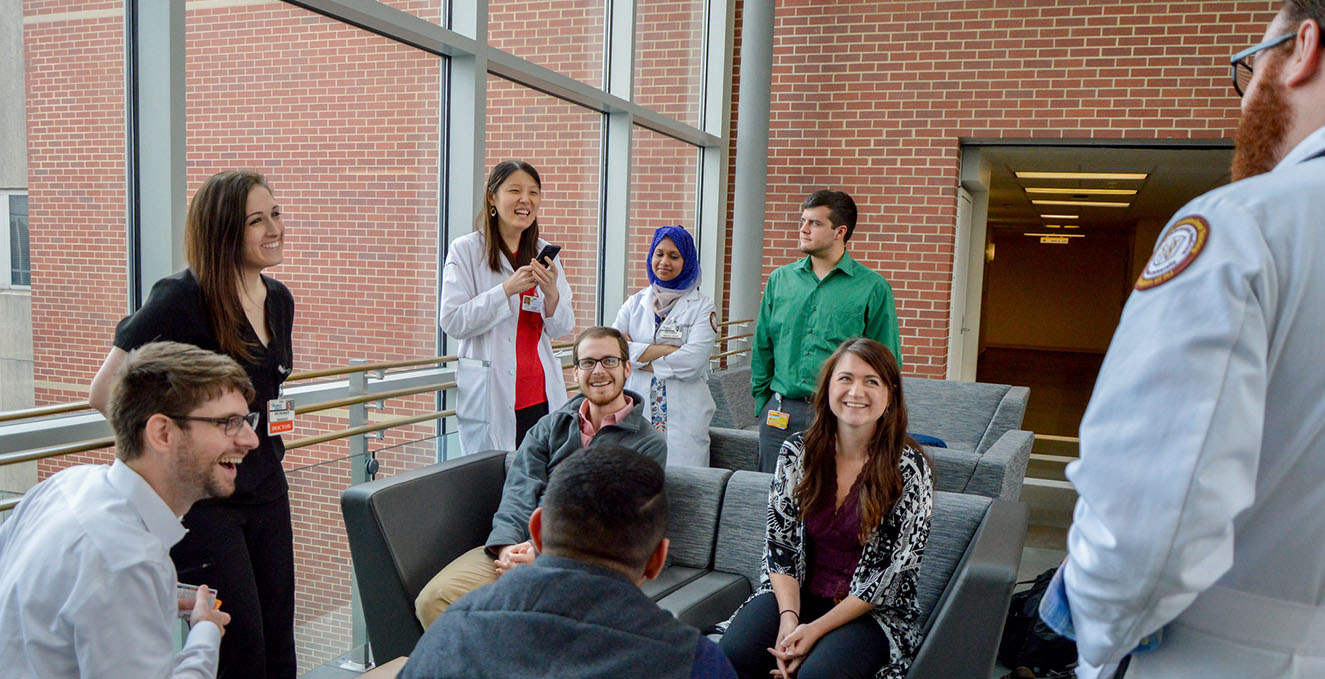 Student Outcomes
RowanGSBS graduates are passionate about the impact their education had on their trajectory. Our graduates can be found attending prestigious medical, podiatry, dental, nursing, physical therapy and physician assistant schools, as well as working in academia, industry or government. We are excited to share alumni testimonials to showcase the benefits of a RowanGSBS education!
Linkage Agreement with Rowan-Virtua SOM
100% of students meeting these requirements are currently enrolled in medical school or have graduated from medical school!
Apply now
Yoona Choe

Medical Student 

Hello potential students and future colleagues! My name is Yoona and I am currently a medical student at Rowan University School of Osteopathic Medicine. I first learned about the Rowan GSBS certificate program during what I thought would be my last medical school application cycle. Like many who pursue a career in medicine, becoming a physician began as a childhood dream. And like many, I struggled along the way. I am grateful I didn't give up and instead took a chance on Rowan GSBS because not only did the Rowan linkage agreement give me an edge in the highly competitive application pool, but I also felt well-prepared to begin my training as a medical student. For the first time in my educational experience, I felt like I was part of a community that cared about my success. The Rowan faculty, staff and community support has been immeasurable, and I believe learning in this healthy atmosphere has made a significant difference in my ability to grow and thrive as a pre-med and now medical student. I hope that you take a chance on the Rowan GSBS certificate program like I did.​
Vanessa Pizutelli

Medical Student 

Hello! My name is Vanessa and I am a medical student at Rowan University School of Osteopathic Medicine. Becoming a physician and serving others through the practice of medicine was a dream that I have had since childhood. However, pursuing that dream was met with trials and difficulties that led me down a different path after college. Once I completed a master's degree and spent a few years in research, I decided to return to my pursuit of my dream and redirected my course back towards a career in medicine. It was then that I discovered the Rowan GSBS certificate in biomedical science. I knew that completing this certificate and earning the required GPA and MCAT for the automatic interview at RowanSOM would be challenging. What I did not anticipate was the level of support and encouragement that I found at Rowan GSBS. Not only were the faculty and staff genuinely kind and eager to help, but the students themselves were also willing to support one another in their academic endeavors.  I knew that I had found the right school for me, and in that positive learning environment I was able to thrive academically, secure my interview at RowanSOM, and step into medical school with confidence. If you are committed to building yourself up both professionally and academically, exploring science and medicine in an interesting and challenging way, and are willing to put forth the effort that is necessary to see your dreams come to fruition, then I encourage you to consider applying to Rowan GSBS. My experience at Rowan has changed my life for the better, and I know that it will do the same for you!
Alan Chung

Medical Student 

Hello! I am currently a medical student at RowanSOM, Class of 2024. I successfully completed the Certificate in Biomedical Sciences (CBS) program in 2019. Out of the handful of master's programs that I applied to, the Rowan CBS program stood out as a program dedicated to helping me achieve my goals of becoming a physician. Throughout my time in CBS, I found that the faculty truly cared about both the academics as well as the students. As I wrap up my pre-clinical years this spring, I can firmly attest that the CBS program offered an amazing jumpstart to my medical education as many of the lectures overlapped with the medical school curriculum. Not to mention, many faculty members teach CBS and medical students alike. As I reflect back on my experience, I can proudly say that being a part of the Rowan CBS program played a pivotal part in my development as a lifelong learner. My hope is that students, just like me, will continue to thrive in this wonderful program and achieve their aspirations! Your future awaits!