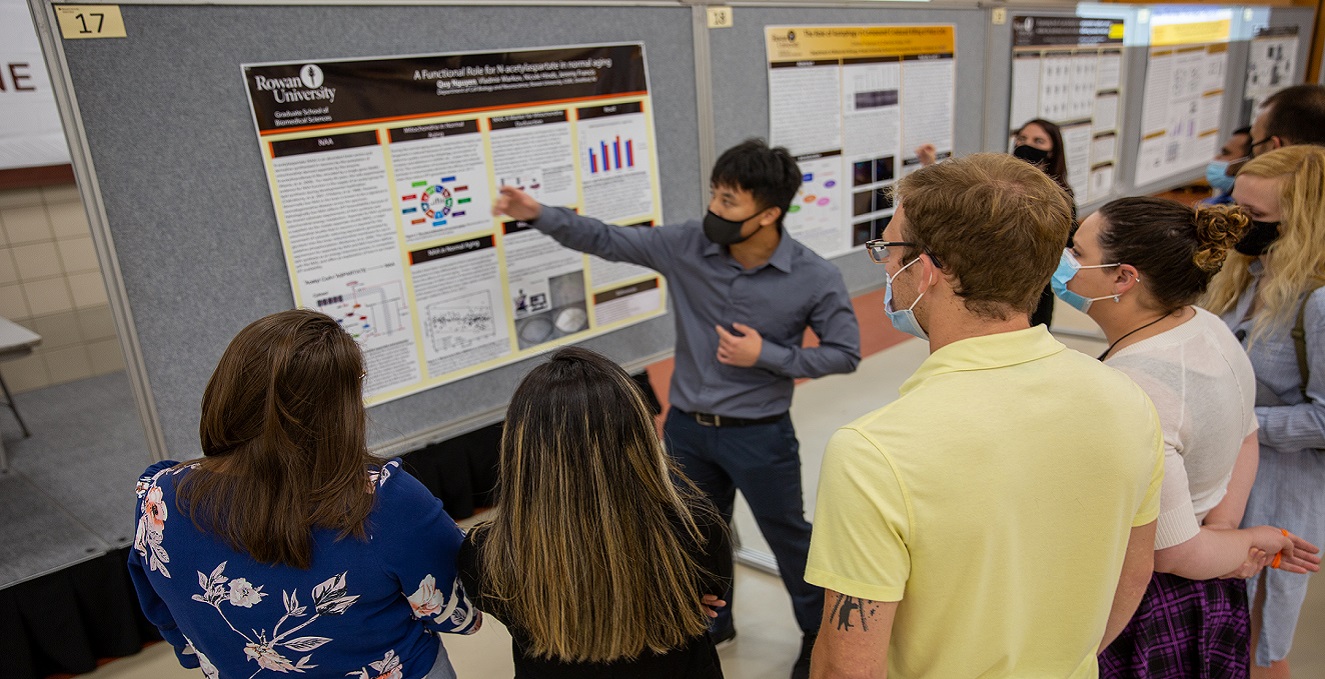 Ph.D. Student Spotlight
Meet our spotlighted Ph.D. students and find out what innovative discoveries and new knowledge they are generating in our state-of-the-art labs. View student publications
Emily Hansen, B.S.

Ph.D. Student

Emily is a current Ph.D. student in Dr. James Holaska's lab at the Cooper Medical School of Rowan University (CMSRU) campus. She graduated from Radford University in Spring of 2020 with a B.S. in Biology, where she ran the Brazilian Jiu-Jitsu club and did undergraduate research in Dr. Bob Sheehy's lab studying the influence of landscape and environmental features on the genetic structure of local Appalachian salamander populations. Her current work focuses on nuclear envelope protein emerin and how its dysregulation contributes to nuclear integrity during metastatic transformation in breast cancer. Outside of the lab, she likes to go out to eat, bake, grow various plants, and watch UFC events.

James Kennedy, B.S.

Ph.D. Student

James graduated from Rowan University in December 2018 with a bachelor's degree in Biological Sciences. He joined RowanGSBS in Fall 2019 in the M.S. program for Cell and Molecular Biology and later transferred to the Ph.D. program in Molecular Cell Biology and Neuroscience in Fall 2021. James selected the research lab of Dr. Ronald Ellis. His thesis project involves defining the sex determination pathway in hermaphrodite Caenorhabditis species with focus on the FEM protein ubiquitination complex which is conserved in humans. Some of his favorite activities outside the lab include reading and crabbing.

Tirth Patel, B.S.

D.O./Ph.D. Student

Tirth is a D.O./Ph.D. student at RowanSOM/GSBS. He graduated from The College of New Jersey (TCNJ) in 2017 with a B.S. in Biology. At TCNJ, he conducted independent student research in the Elliott Lab studying random mutations in the bacterial genome that lead to antibiotics resistance. After graduating, he transitioned into human physiology research for a year at Perelman School of Medicine at the University of Pennsylvania. In the fall of 2018, he began studying medicine at Rowan School of Osteopathic Medicine. The following summer, he did a research fellowship in Dr. Benjamin Rood's lab studying social behavior. This experience solidified his interest to become a physician scientist and pursue a Ph.D. After joining GSBS, Tirth now focuses on studying the role of vasopressin in neuronal networks that govern social behavior. Outside of the lab, he enjoys Philadelphia sports (go Eagles!!), table tennis, and spending time with family and friends.

Nicole Hinds, B.S.

Ph.D. Student

Nicole is currently a Ph.D. student at RowanGSBS in Dr. Daniel Manvich's lab. She graduated from Rowan University in 2015, where she studied Biochemistry and worked under the mentorship of Dr. Gregory Caputo. While an undergraduate, she assisted in research aimed at characterizing the self-assembly of conductive peptide-porphyrin aggregates. In the years to follow, Nicole taught Chemistry for Atlantic Cape Community College and ran an Emergency Services Organization in her home town of Buena Vista Township, NJ. Nicole is broadly interested in neuropharmacology and is currently working to assess the neural circuitry underlying drug-seeking behavior and various coping strategies in response to psychosocial stress. While not in the lab or studying, Nicole enjoys spending time with her husband, and hiking with her sister.